Key safety system not installed at site of deadly Amtrak derailment
A system that Amtrak hailed as "the most important rail safety advancement of our time" [PDF] and is mandated for all United States commuter lines by the end of this year was not in operation on the section of track that was the site of Tuesday's deadly train derailment in Philadelphia.
The system, known as positive train control (PTC), is a package of equipment and communications upgrades designed to track and control train speed and location "to prevent train-to-train collisions, derailments caused by excessive speed and certain human-caused incidents such as misaligned track switches," according to the railroad. PTC is also said to provide enhanced protection for rail workers along the tracks by slowing or stopping trains near work zones.
"Had such a system been installed in this section of track, this accident would not have occurred," said Robert Sumwalt, a member of the National Transportation Safety Board, referring to PTC.
PTC rules were originally proposed in 2010 but faced concerns that the 2015 deadline would be tough to meet because of the competing interests and differing technological standards among the nation's 41 railroad companies. Costs were then estimated to top $1 billion.
In 2012, Amtrak announced it would have PTC operational on all Amtrak-owned parts of the Northeast Corridor (the rail line that runs between Washington, D.C., and Boston and includes the site of Tuesday's accident) by 2013, but in a January-February company newsletter, Amtrak Ink [PDF], the passenger rail service stated future goals for 2015 included enforcing civil track speeds using a component of PTC called the Advanced Civil Speed Enforcement System (ACSES).
The newsletter reported that the ACSES "project is very close to being complete and on time" and that Amtrak was "hopeful that the new ACSES system will be operational by the end of 2015."
The Amtrak passenger train derailment left at least seven people dead and dozens injured. While the cause of the accident is still under investigation, preliminary data show the train was traveling well above the maximum safe speed for that section of track.
The speed limit for the curve where the train jumped the tracks is 50 mph; the straight section before the curve has a limit of 70 mph, according to local reports. The last recorded speed of the locomotive, mere feet before the curve, was 106 mph.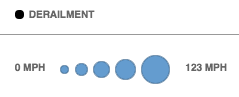 Amtrak Ink reported in its January–February 2015 issue that ACSES was operational from New Brunswick to Trenton in New Jersey and from Wilmington, Delaware, to northern Maryland — areas north and south of the accident site — but said installation of ACSES on the "remainder of the Northeast Corridor from Washington, D.C., to New Rochelle, New York," was "on the horizon."
Repeated calls to Amtrak for comment on the status of its safety systems on the Northeast Corridor were not returned by the time of this writing.